FAQ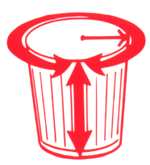 What size trash bag do I need?
Measure your wastebasket to determine size
Width: Use tape measure and measure all around the top of your wastebasket
Height: Measure halfway across the opening, and measure the height; add these plus three inches
What strength bag do I need for the job that I am doing?
Choose the equivalent strength for the job:
1 – 1 1/2 mil = Paper product and light garbage
2 mil = Household, dry grass/leaves
3 mil = Heavy household, wet grass/leaves
4 mil = Heavy yard debris, contractor grade
5 mil = Light demolition grade
6 mil = Medium demolition grade
8 mil – Heavy demolition grade
Do I receive any discount when I buy multiple cases of bags?
Save 5% when you buy 5 cases of bags.
Save 10% when you buy any 10 or more cases.
The cases can be mixed.
Can I order larger quantities?
If you do not find the quantities or gauge that you need on our web site, feel free to e-mail us or call us at (800)643-3707 for a quotation.
What are your return policies?
We guarantee complete satisfaction or your money is cheerfully refunded if the product is returned within 60 days of purchase.